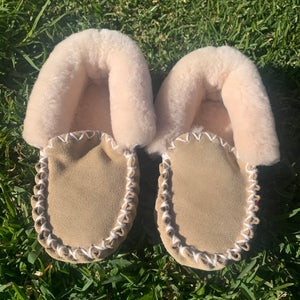 SIZING AND FIT:
PLEASE CHOOSE YOUR NORMAL SHOE SIZE.
Our moccasins are unisex and in Men's AU sizing. So, if you order AU MALE size 9, we will send size 9 as selected. If you order AU FEMALE size 9, we will send size 8(the sticker size will say 8)
If you are half size, we suggest half size down for female, half size up for male. Exp: If you are AU male size 9.5, please choose 10, if you are AU female size 9.5 please choose 9.
These should fit snug as being genuine sheepskin will stretch about half a size over time.
A must-have item for those chilly days at home.

Our Sheepskin Moccasins are made from genuine Australian sheepskin and fitted with a flexible full width sole allowing them to be both comfortable to wear around the house.
Our moccasins are a traditional style of slippers which we have proudly sold for over 15 years in Melbourne. They are constructed using genuine leather suede and plush Australian sheepskin wool on the inside, made to last and keep your feet warm and cozy at home all year long.
Genuine sheepskin and leather will mean that our Moccasins keep you more comfortable than those made using synthetic material. The use of natural wool allow your feet to breathe especially when barefoot and stay dry even during the warmer seasons.