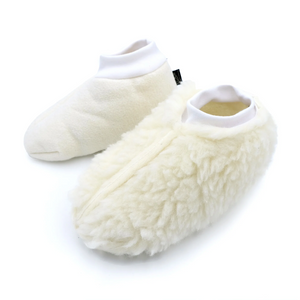 Indulge in the ultimate warmth and comfort for your feet with our Melbourne made skin sox! Made from 100% pure Australian wool. These versatile wooly sox offer a cosy experience at home or in bed, and they are simply perfect after a chilly day out in the snow. Plus, they make ideal gumboot inserts to keep you snug while tending to your garden on frosty days.

With an elastic cuff around the ankle and a soleless construction, our skin sox are designed provide for maximum comfort. Their breathability ensures your feet stay fresh even during extended wear. Caring for them is a breeze as they are easy to wash and maintain.

Say goodbye to cold feet and hello to luxurious comfort with our Melbourne-made skin sox. Embrace the goodness of Australian wool and treat your feet!

Suitable for home, bed, travel or as inserts.
Washing Instructions:
Hand or machine was at 40 degrees in wool detergent. Dry in shade.
Size Guide:

Small: Sizes 2-4
Medium: Sizes 5-7
Large: Sizes 8-10
Extra Large: Sizes 11-12